April 22nd, 2018 - 10:00 am
**TRAIL CONDITION UPDATE 4/21: Thanks to some beautiful sunny weather, conditions look good on the trails for the race tomorrow. Still, we recommend preparing for some mud and wearing layers, especially for walkers. Expected high of 56 F, low of 33 F. **
Nature Up North and the St. Lawrence Land Trust invite you to join us for the 3rd annual Earth Day 7K Trail Run & Walk on April 22, 2018 at 10:00 am. One of few annual trail races in the North Country, proceeds from this race benefit local conservation and environmental education initiatives.
Runners begin at 10:00 am at Wachtmeister Field Station. Runners times will be recorded and available after the event. Walkers are welcome to start the course anytime after 9:15 am, and are encouraged to begin by 9:30 am. 
The flat 7 kilometer (approximately 4.4 mile) course connects the Kip and Saddlemire Trails at St. Lawrence University, passing through scenic forests and wetlands along the Little River. The flat terrain makes this course a suitable for runners and walkers of all fitness levels. The course will be well marked, with volunteers at all major intersections. Short road segments connect the longer stretches of trail. Be prepared for a few muddy sections.
Thanks to our generous 2018 sponsors!
Newmanzone Maple, Sergi's Italian Restaurant, Josie's Pizzeria, Chilly Delights, Nature's Storehouse, littleGrasse Foodworks, The Bagelry, Coakley Home and Hardware, & The Yoga Loft.
---
Registration: To register, please send an email to info@natureupnorth.org to with your 1) name, 2) age, and 3) division (mens/womens). You may register more than one walker/racer with the same email address.
Race t-shirts will be available with a minimum donation of $12. If you would like a shirt, please include your preferred size with your registration (sizes: youth S-XL, adult S-XL). 
There is a recommended donation of $5-20 for this event (youth 12 and under free). Proceeds will be split between the St. Lawrence Land Trust and Nature Up North, and will benefit local conservation and environmental education projects.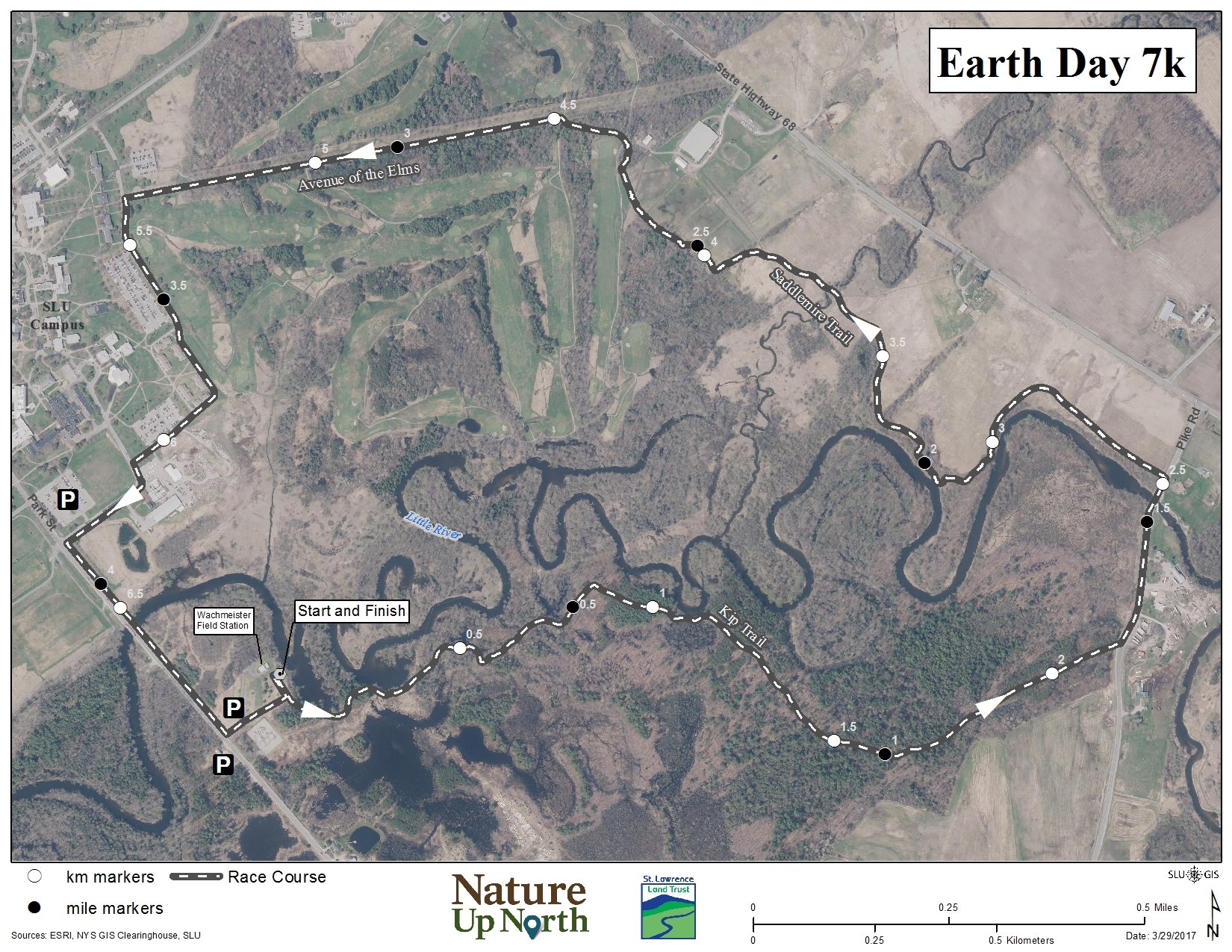 Post-Race: Stick around after the race for awards*, a prize raffle with donations from local businesses, and to learn more about the St. Lawrence Land Trust and Nature Up North's conservation and environmental education initiatives.
*top finishers in youth (12 and under), open (13 - 39) and masters (40 and up) for both men and women will receive medals. 
Refreshments will be available after the race and water throughout. Please bring a reusable water bottle to save on disposable cups.
Directions: The Wachtmeister Field Station is located just south of the St. Lawrence University campus on Park St./County Route 27 in Canton. If approaching from Canton Village, it is the first driveway on the left after passing over the wooden bow bridge over the Little River. If approaching from the south, the Field Station is the third driveway on the right after passing the Kunoco.*
*The Wachtmeister Field Station has a single indoor restroom.
Questions? Contact us at info@natureupnorth.org
---
The St. Lawrence Land Trust works with local landowners to conserve ecologically, culturally, and recreationally important elements of the landscape, while maintaining the private ownership of the land.
Nature Up North is an environmental education and outreach project based at St. Lawrence University that works to offer hands-on and online opportunities for North Country residents to connect with the local environment.